Eliminate Abdominal Fat and Energize Your Body with These Four Yoga Postures
These four simple yoga poses can bring big dividends to your overall health, while also flattening your tummy in the process.
Yoga has been used for centuries to provide spiritual, mental and physical benefits for the body.
You do not have to embrace the spiritual side of yoga to get the mental and physical benefits it offers. In fact, you do not have to do a full program of yoga for some of the advantages.
You can use specific poses to conquer the problem areas of the body. Here are four poses that will help you eliminate the problem of belly fat.
---
①
Sun Salutations
Sun Salutations should be done in the morning, as the name implies. You're saying hello to the new day, but also preparing your body for it at the same time.
It stimulates the lymphatic system through movement and tones the abdominal muscles and organs.
① This pose helps get things moving in your elimination system. That can encourage bowel movements and help eliminate constipation that can cause bloating and the appearance of a fat abdomen.
② This pose aids in preventing the build up of fat, helping in weight loss in the process.
Like any movement often referred to like exercise, sun salutations show results after doing the pose on a regular basis. You will feel the difference immediately, but it will take longer to see the results.
---
②
Cobra Pose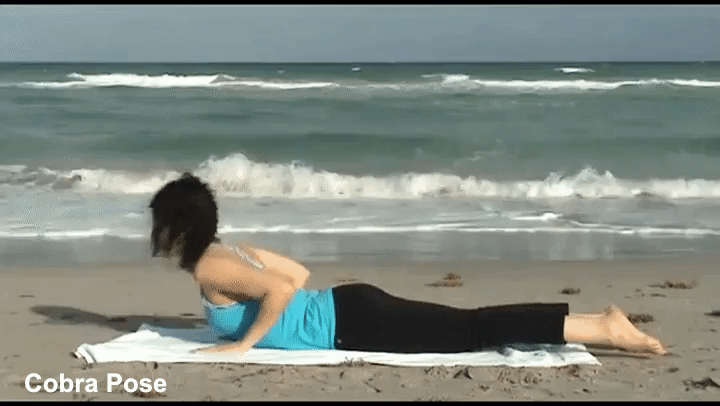 ① Cobra pose stretches your muscles while putting weight on your body in the abdominal area to provide a gentle massage to the abdominal organs.
② It too helps improve not only digestion but also elimination. It builds strength in the core muscles in the back and abdomen, as well as the upper body.
---
③
Bow Pose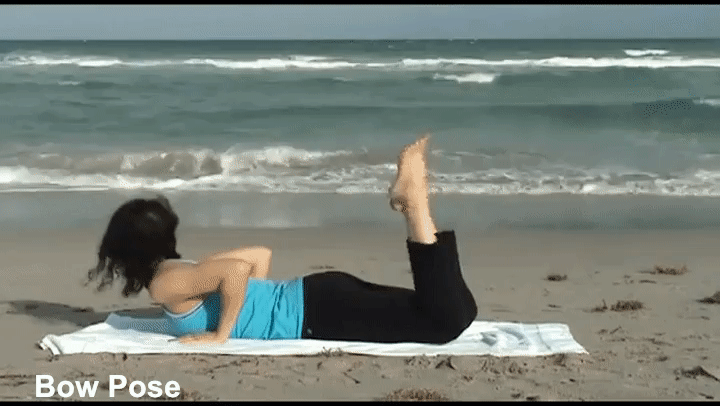 ① The Bow Pose is the third pose that also helps strengthen your core muscles.
The stronger these muscles are, the flatter your stomach will be. It strengthens them without adding bulk, as some exercises can do.
② Building core muscles help protect inner organs while preventing injury and back pain.
The rocking movement in more advanced movements aid even more in elimination and gives the body a stretch that can help in improved posture.
---
④
Knee-Chest Pose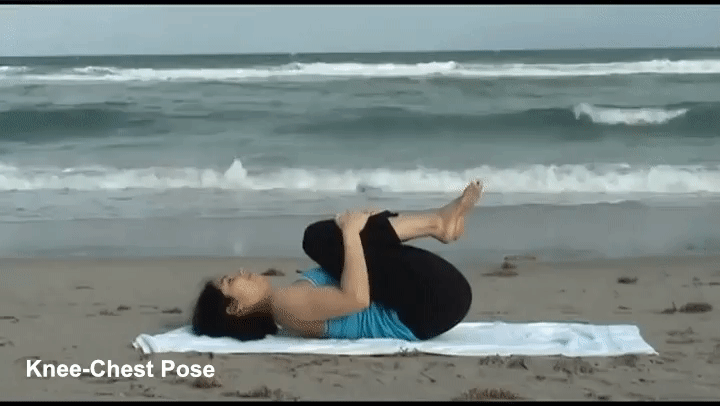 The knees to chest pose —apian asana— can be used as a warm up or cool down exercise.
① This pose tightens your tummy, enhancing the loss of fat around your waist. It also improves the back muscles.
② It causes a gentle massaging of the lower back and abdomen and creates a release of any tightness resulting from the bow pose.
It can help boost your digestive system and reduce the potential for constipation that adds to belly bloat.
③ It also provides lots of relief for lower back pain. It is sometimes called Pavan Muk asana.
That name means wind-relieving. It does not take much to guess what that helps your body do.
These four yoga poses done consistently will help you have a flatter stomach in no time. You will also see other benefits like less back pain and more flexibility, energy, and strength.
Give them several weeks to work and you will be glad you did.
Scroll Down to Watch the Video:

Credit: LexiYoga